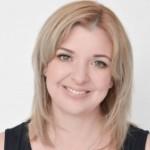 Vicki Dawson, CEO and founder of 'The Children's Sleep Charity', reflects on the importance of gaining recognition in developing the valuable work that they do.
When I saw the RSPH awards were open for nomination I initially did nothing, we had applied the year before without success. Time is precious when you run a small charity, there is always so much to do that completing the paperwork for the award was definitely not top of my list of priorities.
I did however revisit the idea of applying over the summer when things were a little quieter and I'm so pleased that I did!
I set The Children's Sleep Charity up in 2012 out of my passion to support families to get a good night's sleep and in turn promote their physical, emotional and mental wellbeing. We are a small team who work tirelessly to offer support to thousands of families across the country. Despite the cost saving nature of our work and its success securing funding to continue let alone develop our work remains a huge challenge.

A period of reflection over the summer made me realise that it is vitally important to gain recognition in order to support the development of our work. Applying for the RSPH Awards became a part of the strategy.
We had recently successful completed a research project alongside Sheffield City Council and Sheffield Children's Hospital, providing us with impressive data to submit to demonstrate our outcomes.

I was delighted to be informed that we had been shortlisted in the Children and Young People award category, a huge achievement! It was incredible to have our name up there alongside such inspiring projects and organisations.
We were announced the winners at the award ceremony in October and I was astounded. To receive an award from RSPH was incredible. It opened a doorway to publicity that had previously been closed.
It also opened up networking opportunities with other organisations approaching us to find out how we may potentially work together. Just this week we received a small amount of core funding from a Trust, something that has been impossible to secure in the past.
The award has also boosted staff morale. The team really do give their all and sometimes it can be hard to keep going when we can wallpaper the office with funding rejection letters!
Receiving this award is a reminder that what we are doing is important, is life changing and is recognised. If you are thinking about entering the awards, set aside some time and do it!