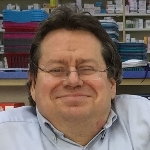 Set up in 1989 by Michael Morrell, Morrell's Pharmacy has been serving the local community of Milehouse, Newcastle Under Lyme for nearly 30 years.
Morrell's Pharmacy was one of the first to become a Healthy Living Pharmacy (HLP) in 2009. The HLP concept and framework is aimed at ensuring a high standard and consistent delivery of pharmacy-based services.
RSPH has been commissioned by Public Health England to run a pilot scheme, which includes registration and quality assurance of the profession-led self-assessment process to test its effectiveness.
In this Q&A, Michael describes its recent submission to the registry and the quality assurance process.
How did you find the quality assurance process?
While there is a lot of information to assemble and you might not necessarily know the relevance of some of the information you are required to submit, it is comprehensive and, I'm sure as the process progresses, it will become apparent why you are being asked to submit various bits and pieces!
What did you prepare for your submission?
Given one of the requirements for Healthy Living Pharmacy status is to have a full time Health Champion, one of our pharmacy team undertook the RSPH Level 2 award Understanding Health Improvement qualification should also be present. In addition, I undertook a CPPE Leadership Course.
In order to satisfy some of the Department of Health's requirements, we looked at our recording structures for the public health campaigns which we run as part of being a Healthy Living Pharmacy.
What has been the most challenging and most rewarding part of the process?
Probably the public health component has been the most challenging, but also the most useful part of the process. But the Health Champion and leadership training certainly helped in this regard. It has helped us review what we do and look at whether we are doing things correctly.
Aside from the funding, what other benefits do you see as a pharmacist going through the process?
It has given us a structure for what we do as we provide lots of health education and information to patients. We recently ran Bowel Cancer Awareness Days at our pharmacy which proved popular and we were able to dispense advice while patients waited for their prescriptions. We have forthcoming campaigns on alcohol and substance misuse.
Find out more
If you are a pharmacy and would like more information about the HLP quality assurance process, please email us or call 020 7265 7322.