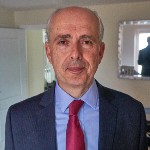 Can you tell us what your role is and where you work?
I currently have two roles. I work three days a week at National Services Scotland, where my main role is working in a newly formed unit to make hospital built environment safer. I also work as an Infection Control Doctor at King's Mill Hospital in Nottinghamshire.
One of my interests is water safety within healthcare premises. Prior to 2012, the main focus was on transmission of legionella from water systems. Following the neonatal pseudomonas outbreak in Belfast (2012) the role of the periphery of the water system in transmission of a variety of organisms was recognised. The advent of highly antibiotic resistant organisms such as Carbapenemase Producing Enterobacteriaceae (CPE) further highlights the role of hospital drainage systems in the transmission of waterborne organisms. CPEs are carried in the human intestine so in essence, we have come full circle. Faecal contamination of water supplies, as highlighted by John Snow, stimulated major public health interventions such as safe water and drainage systems in the 19th century. In the 21st century not only in developed countries but within healthcare premises we are witnessing water contaminated with faecal organisms reaching patients.
What has been your career path?
I started out as a trainee microbiologist at Queen Mary and Roehampton University. The day the new regional burn unit was opened, it was closed by my consultant having detected a pseudomonas contamination of the main water storage tank. This ignited my interest in water which was re-kindled during the construction of the new hospital in Coventry in 2003 which at the time was the largest PFI build in Europe. Within a short space of time, there was a pseudomonas contamination of the water system in the neonatal unit and legionella in various parts of the new hospital. I became the director of infection prevention and control at Coventry and since then a further developed interest in healthcare water systems
What is your favourite part of your role?
I really enjoy being able to learn from other people and collaborating as a team to solve a problem. There are a number of people who have been very influential in my career including Dr Keith Struthers who was the director of microbiology at University Hospitals Coventry and Warwickshire NHS Trust. It was Keith who first uncovered that the water system in the new hospital was the source of the pseudomonas. Following on from Keith was very easy because he had done all the difficult work.
I also enjoy working in a team to push what you can achieve in your discipline. It's also really rewarding when you feel your contribution has helped to make something safer.
In your role, how do you support and improve the public's health and wellbeing?
I like that in my role I can help support individual patients and policies to help keep the public safe, whilst also working on projects that help large groups of people. For instance, improving the design of a hospital can make a difference to the health of people on a larger scale. Hygiene in every circumstance is something we can all learn from and I enjoy being able to use my knowledge of infection control to support people's health.
What area(s) of public health are you the most passionate about?
Although my prime interest is water (and drainage systems) I am also fascinated by how human nature can prevent progress. For example Semmelweis, John Snow now recognised as visionaries although at the time their work was rejected. I was fortunate to meet Joachim Kohn who in 1967 produced evidence that pseudomonas was transmitted from hand wash sinks to patients but whose work was rejected at the time by little more than folklore. The reason why such pioneering work is often rejected is put down to the 'Semmelweis reflex 'or 'belief perseverance'. This is our tendency to reject new ideas, despite strong evidence, once we have an established view.
What do you enjoy about being an RSPH member?
I really enjoy attending the water webinars that RSPH puts on. I find that I can always learn from the speakers, who are experts in their field. RSPH is really helping to lead the way in educating people about water systems and infection control through their webinars and special interest group.
What do you do to take care of your own health and wellbeing?
I've bought an electric bike and enjoy going out for a ride (even if some days I feel like it more than others) around my local area. I was inspired by the cycle systems of Holland after talking to Joost Hopman a Dutch microbiologist. He has been very innovative in reducing waterborne infections in healthcare. He told me his best ideas came to him whilst he was cycling. I was hoping for the same experience – perhaps I need to pedal harder.