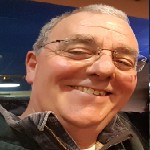 Can you tell us what your role is and where you work?
I am an independent Environmental Health Practitioner (EHP) with a number of clients in Cornwall, mostly food related businesses. I also carry out contract food hygiene inspections on behalf of local authorities and currently have a contract with Dacorum Borough Council in Hertfordshire. A typical day would be visiting three or four food businesses and providing the National Food Hygiene Rating for those covered by the system, producing letters indicating legal requirements and/or recommendations as necessary.
What is your favorite part of your role?
Meeting people and helping them to deliver a safe product to the consumer with the least amount of unnecessary aggravation. Most people respond well to good advice and that feedback makes the job more enjoyable.
Can you give us an overview of your career path?
I joined Kerrier District council in 1974 as a student Public Health Inspector and undertook a 3-year 'sandwich' EH Diploma, studying at Bristol Polytechnic. I first worked as a generalist EHO, then 'specialised' in food safety, H&S and infectious diseases. Over the years I progressed through Senior EHO, Principal EHO and eventually head of Environmental Health.
My life changed somewhat in 1991 when my 6-year-old daughter contracted E. coli O157 and became seriously ill with the haemolytic uraemic syndrome complication when her kidneys ceased to function. Two tense weeks of peritoneal dialysis in hospital followed, but thankfully she pulled through and her kidneys kicked back into life! She had spent the weekend before becoming ill on my parents' farm and I believed the infection was most likely due to contact with cattle faeces whilst playing in the fields. I acquired funding to carry out a research project to demonstrate an association between farm animal contact and some cases of E. coli O157. The study was overseen by UWIC and resulted in my obtaining a Master of Philosophy Research Degree. This experience has been very influential in my subsequent working life in so many ways, including acting as an 'expert witness' in a number of instances / outbreaks of this potentially extremely dangerous zoonotic pathogen.
In 2003 I left local government employment and set out on my own as the Director of Kernow Enviro-Wise Ltd, offering my services as an independent EHP to local businesses and as a contractor to a number of Local Authorities. (Interspersed from 2005 to 2008 as a publican in a local Helston hostelry, The Red Lion! )
In 2015 I travelled out to Baku, Azerbaijan, for the mammoth task of managing food safety at the first European Games covering the catering for around 6,000 athletes and 7,000+ workforce. I travelled out to Baku again in 2017 for the 4th Islamic Solidarity Games, and later in 2017 to Ashgabat, Turkmenistan for the Indoor & Martial Arts Games.
I consider myself very fortunate to have taken the decision to train as an environmental health professional, as the remit is so varied and opens up so many opportunities for followers of the profession, many more now than when I started out, it has to be said.
How did you find out about RSPH and what do you enjoy most about your membership?
I was asked to deliver a presentation at one of the RSPH training events, and I was very impressed with the organisation and decided to join up! Since then I have enjoyed several RSPH events (and the wonderful lunches!) and latterly the interesting and informative webinars.
I have tried to be an active member of the RSPH membership Food SIG, and until Covid struck, enjoyed meeting up with the diverse and extremely impressive colleague members of the Steering Group in London.
What do you do to take care of your own health and wellbeing?
I try to control my diet to an extent, but have to admit I'm not good at refusing good chocolate or a fine hoppy ale...! When Covid permits, I play cornet/trumpet in the HMS Seahawk Naval Volunteer Band, based at RNAS Culdrose in Helston, now my home town. I bought an expensive road bike around 3 years ago, but having to work away from home a great deal results in difficulties to make good use of it, unfortunately. Perhaps when I eventually retire...!?