Showcasing the Shape of the Public's Health through sculpture
Each year, following the AGM of RSPH, a piece of artwork is unveiled which is inspired by issues impacting the public's health. This year, RSPH collaborated with the Royal Society of Sculptors (RSS) on an exciting national competition which called entrants to use the medium of sculpture to reflect the main public health challenges of the day.
All members and fellows of the Royal Society of Sculptors where invited to submit their existing work for a chance to be shortlisted as one of three prize winners. Following a rigorous judging process, the three finalists where exhibited at the RSPH Shape of the Public's Health event which took place on 11th September 2019.
First place - Elena Cologni

Elena Cologni believes that art can enhance a healthy relation to place, which has an impact on our physical and mental wellbeing. Cologni's dialogic artistic research points at our self-awareness of experiencing place.
The series of nomadic sculptures in the project 'Seeds of Attachment' are based on variations of geometric shapes, inspired by psychologist Margaret Lowenfeld's Mosaic Test (1938) the artist researched at the Centre for Family Research in Cambridge (2016).
Cologni met mothers on their school run route, and the sculpture represented a non-verbal approach to relating to one another, and our places. This activity has marked moments in their everyday routine and in relation to their identity, and thus the artistic strategy contributes to understanding place attachment.
Runner-up - Steve Hines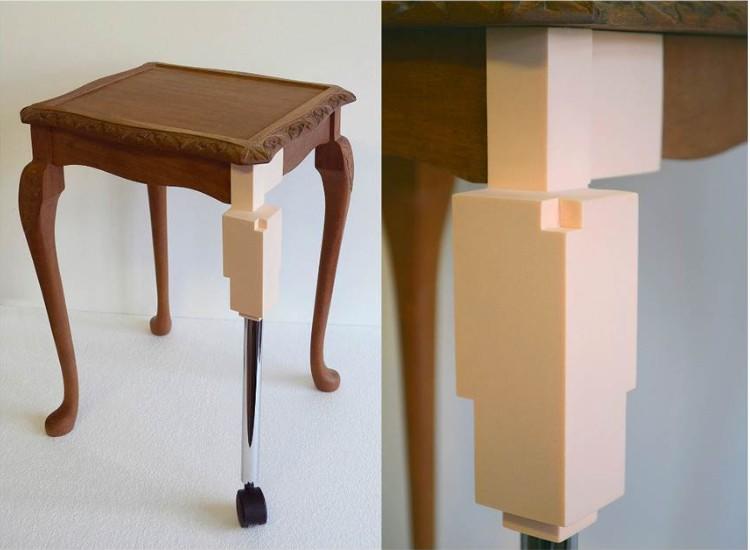 Many of my artworks have a fragile, vulnerable, and precarious quality that is not always immediately apparent. I believe this perception may be mirrored by the shape of the public's health at present, which I believe faces a great challenge.
The work I have on show at RSPH could be viewed as a reflection of a well-meaning system that attempts to continue amidst all manner of challenges providing a solution, which may or may not always be the most appropriate. In another sense the artwork is a commentary on the meeting of the old and the new, on design, style solutions, working together to provide continuity.
Prosthetic ii, (& Prosthetic i), was inspired, in part, by personal experience following the need for a prosthetic shoulder joint which has provided only a partial solution and functionality.
Runner-up - Lucy Glenndining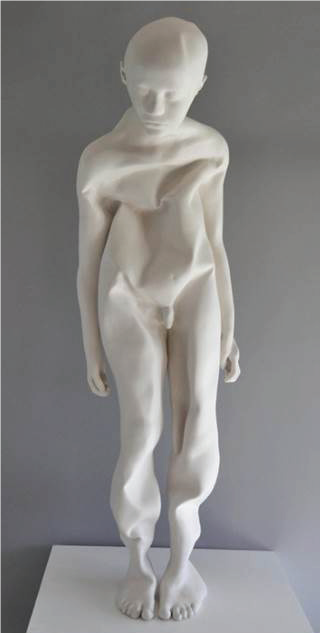 'The shape of the public's health' has a direct connection with my work, and specifically the current series of sculptures I am making 'The Ghost in the machine'. My sculpture takes the human form as its starting point and its tool. I have a classical sculptural approach to its manipulation. My point of departure is not an idiosyncratic impulse but a reflection, a thought fuelled by my interest in medical information and psychological studies.
The series of works 'The Ghost in the Machine' is looking to represent as sculptures, how we feel we look in different mental states, the shapes of our mental health, responding to and reflecting on, the shape of the public's health. To make these works informed by as wider variety of perceptions as possible. They are derived from a series of informal, individual, ongoing, conversations with a fluctuating group of approximately 20 people aged between 17 and 88.
These conversations started with a series of questions and move to discussions about how a concern or worry changes our perception of our body, and how this might be illustrated. This exhibited work 'The boy who wasn't real' reflects a regularly raised concern: a sense of deflation and inadequacy combined with the fear of being overlooked, and miss understood. Especially with the pressures of social media, (particularly for younger people), and in the elderly the sense of invisibility. Both causing the feelings of vulnerability and exclusion.
This work does not aim to make a statement but to provoke a debate or curiosity. Through sparking conscious thoughts and ideas as well as evoking emotions and empathy through our subconscious. I want the observer to become conscious of themselves in relation to the work/sculpture.
Caroline Worthington, Director of the Royal Society of Sculptors said: "The Royal Society of Sculptors is delighted to partner with and support the Royal Society for Public Health to explore the challenges facing the public's health in a creative way. Through our community work we have seen first-hand how the arts can support mental health and wellbeing but also provoke debate."