Gin Lane tea towel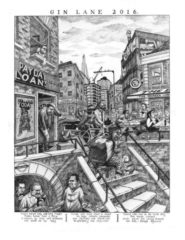 | Qty | Price per unit |
| --- | --- |
| Standard price | £8.00 (ex VAT) |
---
To commemorate RSPH's 160th Anniversary milestone, we commissioned talented up-and-coming artist Thomas Moore to reimagine William Hogarth's infamous 1751 cartoon Gin Lane – which depicts the debilitating effects of the gin crisis then sweeping London – for the 21st century.
The new artwork, which reflects some of the biggest public health challenges now facing British society, was unveiled at RSPH's Annual General Meeting on Wednesday 19 October 2016.
After huge media and public interest in the piece, we have produced limited edition, 100% cotton tea towels.