Level 2 Food Safety and Hygiene
Level 2 Food Safety and Hygiene Online Course
This course covers the essentials of Food Safety and Hygiene - including all you need to know if you work in a Catering, Hospitality or a Food Manufacturing environment.
Covid-19 update: Due to the Covid-19 outbreak, our methods of facilitating assessments have changed. To find more information visit our FAQs page.
---
---
The food you cook - or the methods you use to prepare and serve it - must meet certain standards of safety and hygiene. This eLearning Course covers the Four Essential Areas of Food Safety: that is, Food Safety Handling, Food Protection, Legal Responsibility and the Application of Food Safety Procedures.
The course has been designed by our tutors to make the whole learning experience engaging and straightforward. Similarly, the learning material is interactive, split into manageable bite-size sections and created to be as flexible as possible, to fit around your busy schedule!
---
Sign up to RSPH Learn
Register your My RSPH account to purchase your course and access RSPH Learn.
---
Aims of the Course
The RSPH Level 2 Food Safety and Hygiene eLearning course will equip you with all the information you need to work safely with food.
---
Who is the Course aimed at?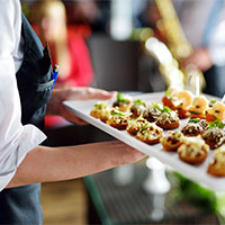 The Level 2 Food Safety and Hygiene course is essential if you're starting out in a role that involves food preparation or presentation. However, the course has also been designed for anyone with an established catering career, who wants to make sure their knowledge of food safety is as up-to-date as possible.
Outside of restaurants and catering companies, food preparation is involved in many other workplaces. This course is also ideal for people who work and handle food in childcare facilities, cafes, hotels, bars or hospitals, among many other work environments.
---
How much does the Course Cost?
All our online courses are priced competitively and offer great value-for-money. The cost of the Level 2 Food Safety and Hygiene eLearning course, depends on whether you select the Course Only or the Course + Assessment bundle. And how many courses you intend to buy (see Volume Discount below):
---
Course only: £30 each
Course and assessment : £58.50 each.
---
How do you access the Course? And how long does it take to complete?
All course materials are accessed through our interactive online platform RSPH Learn. (you need to be connected to the internet). You can purchase the course by visiting our Learning Catalogue in My RSPH. If you do not have an account you must first register here. You can buy a course for yourself, or multiple to assign to other learners. If you are buying a course for yourself, you should tick the 'assign course to yourself' box at the check-out.
The course topics are split out, with Revision Quizzes to test your knowledge, as you work through the modules. It can be paused and restarted whenever you like, and you have six months to complete the course. The entire course involves up to eight hours of study. On successful completion, you'll receive an RSPH CPD Completion Certificate and eight CPD points.
---
24/7 Access via the RSPH Learn LMS
All RSPH online courses are accessed through RSPH Learn, our online learning platform, which can be used across all devices.
---
Course Contents
The course is split into the four key sections. At the end of each section, you'll find a Revision Quiz to help boost your learning. And, after completing the final topic, the Practice Assessment.
PART 1: Keeping Food Safe
The first section explores the risks to food safety and hygiene including the common sources of contamination and cross contamination you need to be aware of. It also explains how to deal with food spoilage including recognition, reporting and safe disposal of food. By the end of the module, learners will understand safe food handling practices and procedures and the importance of temperature and stock controls.
PART 2: Personal Hygiene
One of the most important aspects of food hygiene is maintaining good personal hygiene. The second topic explains the importance of personal hygiene in food safety, including its role in reducing the risk of contamination. This section will equip learners to be able to describe effective personal hygiene practices including hand-washing, wearing protective clothing, and reporting illness.
PART 3: Hygiene in the Work Area
The third module explains best practise procedures for keeping the food preparation area you work in and equipment you use clean and tidy. This section also covers how work flow, work surfaces, effective pest control and well maintained equipment can reduce food contamination risks.
PART 4: Responsibility for Food Safety
The final topic outlines the importance of food safety procedures, risk assessment and safe food handling and behaviour. By the end of the fourth (and final!) section, learners will understand how to report food safety hazards and what their legal responsibilities are as food handlers.
---
Certification