Lifebuoy
Handwashing campaign and associated products
Unilever Lifebuoy is the world's leading health soap, aimed at creating accessible hygiene products and promoting healthy hygiene habits
Campaign details
The overriding goal of the campaign is to change the handwashing behaviour of 1 billion people by 2020. To achieve its goal, a Lifebuoy Handwashing Behaviour Change Programme was launched in 2010, and was rolled out to all Lifebuoy markets in Asia, Africa and Latin America.
Building on Lifebuoy's many years of experience, this health promotion has resulted in sustained and positive handwashing behaviour change for many communities. Handwashing Behaviour Change Programmes are now central to Lifebuoy plans in all countries where the Lifebuoy brand is present, with hygiene promotion activities fully embedded into brand ethos and activities on an on-going basis.
Lifebuoy aims to make a difference to those who need it most. The Lifebuoy handwashing projects are designed to reach people living in countries where diarrhoeal disease is highest and where soap usage is infrequent.
How and why RSPH accredited the campaign
The campaign accreditation for Lifebuoy encompasses both the products and educational aspects of the campaign. The assessment involved an independent expert review of Lifebuoy's hand hygiene programme.
The review included an assessment of its objectives and health priorities, its role within the organisation's Corporate Social Responsibility (CSR) strategy, the mode of delivery, and communication materials. It also included an assessment of the Lifebuoy product range which contributes to the hand hygiene campaign.
During the accreditation assessment, Unilever clearly demonstrated that improving community health through sharing knowledge and encouraging behaviour change is central to both its business and CSR strategy. The accreditation recognizes Lifebuoy's hygiene education efforts with respect to handwashing with soap as a disease prevention measure.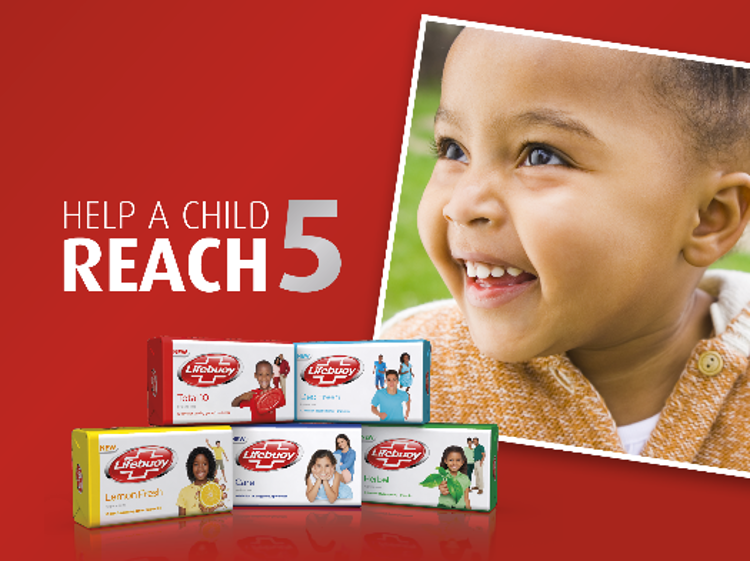 25% fewer
episodes of diarrhoea
15% fewer episodes
of Acute Respiratory Infections (ARIs)
Campaign achievements
Pneumonia and diarrhoea together account for 29% of all child deaths globally, resulting in the deaths of more than two million children each year. Lifebuoy's evidence on the impact of changing hand washing behaviour and increasing the use of soap in the health and wellbeing of individuals (especially among children for under 5s) and communities is extremely impressive.
For instance, studies in Indian urban communities show that children from families that have been involved in one of the handwashing campaigns had the health benefits detailed above compared with children in families that did not take part in the campaign.
Reflections on the campaign
RSPH's Behaviour Change Advisor, Claire McDonald, visited Karachi to see Unilever Lifebuoy's hand washing campaign in action: read her blog.