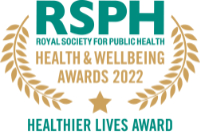 This Award recognises the effectiveness of projects and programmes that support people to lead healthier lives. The greatest influences on people's health and wellbeing come from outside health care, including factors such as education, employment, housing, and community.
The Healthier Lives Award is one of the categories of the Health & Wellbeing Awards.
Award criteria
Projects and programmes should demonstrate:
The implementation of approaches which support the reduction of health inequalities and an increase in healthy life expectancy
Changing the way with talk about wellbeing so that the focus is on health as an asset, rather than ill health as a burden
Promotion of strategies that support everyone to live a healthier life
Support for local action to address inequalities in health
Impact as to what you have achieved as a result of collaboration and partnership working
Beneficiary and community impact
Improving health across the life course within communities or setting such as the workplace, schools or care settings. This may include changes to the natural or built environment which encourage healthy behaviours
Implementation of community/population approaches to health improvement, including physical activity, healthy eating and weight management, smoking cessation, mental health, sexual health, and alcohol and substance misuse
How health inequalities have been addressed through approaches such as equality impact assessment (EqIA) and/or working with groups represented within the equality act as demonstrating one or more protected characteristics
Category winners have the opportunity to be selected for the prestigious Public Health Minister's Award.
The winners are announced at the annual RSPH Awards ceremony.
Previous winners​
​
Find out more
For more information about the Health & Wellbeing Awards and the entry process, please see our Frequently asked questions. Alternatively, please email us.