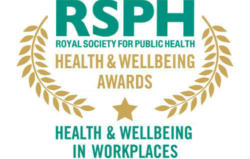 The Health & Wellbeing in Workplaces Award is one of the categories of the Health & Wellbeing Awards.
This award is an opportunity for employers to show their commitment to the health and wellbeing of their workforce.
Award criteria
Entered projects and programmes should reflect the application of the following principles based on NICE guidance on healthy workplaces:
Making health and wellbeing an organisational priority – good practice around this includes:

Having a named senior manager who makes employee health and wellbeing a core priority
Having an organisational health and wellbeing strategy
Integrating a health and wellbeing in relevant organisation's plans policies and communications
Empowering a team of workplace health champions with enough autonomy and support to design and implement health promoting initiatives

Embedding health and wellbeing is within the organisation's management processes and procedures, for example by being included in the skills and knowledge requirements of line managers and in their performance review
Committing to a parity of esteem between physical health and mental health. This means that as well as promoting healthier lifestyles and safety in the workplace, organisation also promote mental health through supportive policies and activities aimed at increasing employee resilience
Enabling employees at all levels to have an opportunity to participate in decision-making processes around practices that have a direct impact on them, for example by having mechanisms for staff to contribute to organisational plans and policies
Category winners have the opportunity to be selected for the prestigious Public Health Minister's Award.
The winners are announced at the annual RSPH Awards ceremony.​
Previous winners​
​
Find out more
For more information about the Health & Wellbeing Awards and the entry process, please see our Frequently asked questions. Alternatively, please email us.
---
Supported by Mental Health First Aid England.