Every year, 5,000 people with food allergies need hospital treatment for severe allergic reactions and 10 die from food-related anaphylaxis.
Since December 2014, takeaways have had to join other types of food business in providing accurate information on the allergens in their food, but many are still failing to do so.
The 14 allergens are: cereals containing gluten, crustaceans, eggs, fish, peanuts, soybeans, milk, nuts, celery, mustard, sesame, sulphur dioxide/sulphites, lupin, molluscs.
Key points
2 million people in the UK are living with food allergies, and these are on the rise
Takeaways are involved with many of the fatal allergic reactions that take place
Over two thirds appeared to be flouting the law by not providing information in the right way.
Our calls to action
Food delivery platforms to request allergen information from takeaways before signing them up
FSA to link food hygiene rating scheme to allergen management
Takeaway operators to make sure staff are properly trained to manage the risks from allergens
Takeaways to make sure they are not breaking the law over allergens
Food allergic consumers to understand the issues faced by takeaways, communicate clearly and exercise caution.
Mystery dining research
6 months on from the introduction of the new rules, we undertook a 'mystery dining' investigation.
We sampled 65 takeaways primarily across London looking at the UK's top 10 cuisines: Chinese, Indian, fish and chips, pizza, fried chicken, kebab, Thai, burgers, sushi and Italian.
In each takeaway we enquired about a meal asking three key questions:
Could they tell us whether three of the major allergens were in the meal?
Did they appear to have a record of allergens to make sure what they told us was accurate, could be checked, and the same information would be given each time?
Was it clear how we could get hold of this information?
We found a high proportion of takeaways did not appear to adhere to these rules, and were therefore breaking the law. Of the cuisine types, fried chicken takeaways performed the most consistently poorly across all three areas.
Do they know what's in your food?
By law, every food business must be able to inform you which major allergens are in the food they serve. We found that over half (54%) couldn't tell us whether one of the major allergens was present in a meal.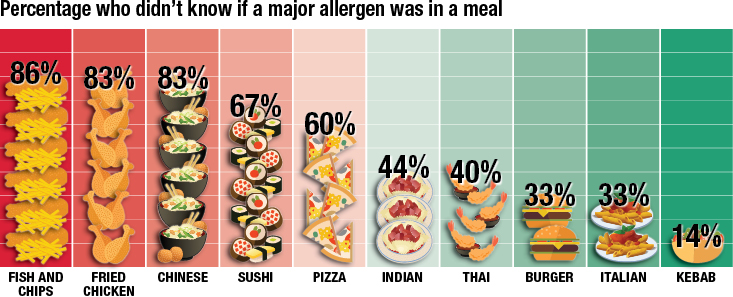 How do you know you've been given the right information?
If the information is not given in writing (next to items on a menu or leaflet), there must be a system in place to make sure it's accurate, can be checked by others, and the same information is given each time. The FSA suggests keeping a record of which allergens go into which dishes. We found that 4/5 takeaways said they weren't doing this, and only 1/10 could actually show a record when asked.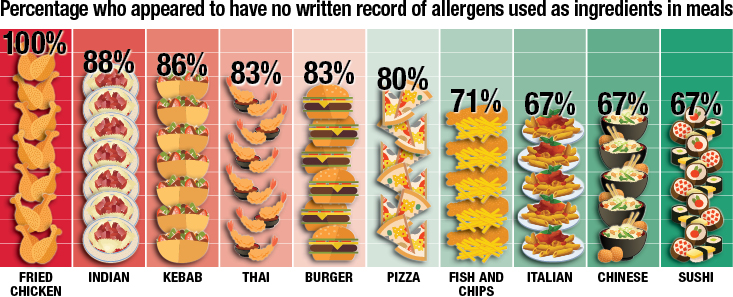 Is it clear how you can find out?
If takeaways decide to solely tell customers what is in each meal instead of having printed or visisble information, they must make it clear how customers can find out this information for example by displaying a sign telling customers to ask a member of staff. Almost 70% appeared to be breaking this part of the law.