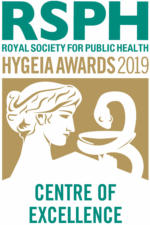 The Centre of Excellence Award is one of the categories of the Hygeia Awards.
This award recognises centres which show commitment to their learners through high levels of teaching and support, alongside proven high pass rates.
Nomination Criteria
Nominations can be received from centres, their learners and employers of their learners. The judging is based on the following criteria:
Innovation
Constantly looking for and introducing new ways to improve teaching and ensure that their learners have the best chance of success eg. new technology and/or teaching methods in the classroom
Supports learners and achieves high pass rates
Shows commitment to their learners through their induction programme, support during course, mentoring and coaching
Ensures that learners can access information and experience they need to obtain a job or progress their career eg. careers advice, work experience, job fairs, and local job market information
Can demonstrate high pass rates
Collaboration
Can demonstrate links and relationships with key stakeholders with an interest in vocational education in your area eg. employers, trade bodies, local government, schools, colleges, charities
Previous winners
2018 winners
The 2018 winners for the Centre of Excellence Award were Le Cordon Bleu and Rentokil-Initial.
Find out more
For more information about the Hygeia Awards, please see our frequently asked questions. Alternatively, please email us