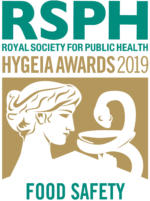 The Food Safety Award is one of the categories of the Hygeia Awards.
This award recognises the individual who has achieved the highest mark in an RSPH Level 4 food safety qualification.
Previous winners
2018 winners
The 2018 winner of the Food Safety Award was Lynn-Anne Allinson.
2017 winners
The 2017 winner of the Level 4 Award in Managing Food Safety in Catering was Matthew Bennett from Paul Povey centre. The winner of the Level 4 Award in Food Safety Management for Manufacturing was Justyna Pupiec-Ademowicz from Verner Wheelock.
Find out more
For more information about the Hygeia Awards please see our frequently asked questions. Alternatively, please email us.