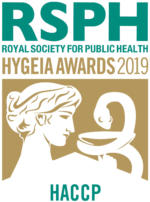 The HACCP Award is one of the categories of the Hygeia Awards.
This award recognises the individual who has achieved the highest mark in the RSPH Level 4 Award in Managing the HACCP System.
Previous winners
2018 winner
The 2018 winner for the HACCP Award was Juliette Jahaj.
2017 winners
The 2017 winners for the HACCP Award were Abdulrahman Jandal Alrifai from Food Safety & Control Management Ltd, and Yanis Skerstins from Verner Wheelock.
Find out more
For more information about the Hygeia Awards please see our frequently asked questions. Alternatively, please email us.