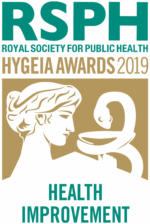 The Health Improvement Award is one of the categories of the Hygeia Awards.
This award recognises outstanding achievement in one of RSPH's Health Improvement qualifications by a learner who has combined their studies with making a contribution to their community's health and wellbeing.
Nomination criteria
Attained one of the following RSPH Level 2 Awards: Understanding Health Improvement, Behaviour Change or Improving the Public's Health
References from tutor and/or assessor regarding the learner's performance and commitment during training, as well as quality of assessment
Ability to signpost health services
Supporting other learners
Quality of communicating health improvement messages
Impact in terms of promoting health and wellbeing to local people (practical effects eg. information and guidance on a relevant health issue

Previous winners
2018 winners
The 2018 winner for the Health Improvement Award was Peter Thurston.

Find out more
For more information about the Hygeia Awards and the nomination process, please see our frequently asked questions. Alternatively, please email us.