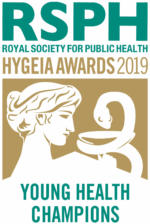 The Young Health Champions Award is one of the categories of the Hygeia Awards.
This award recognises outstanding achievement of a Young Health Champion in terms of raising awareness of a health issue amongst their peers and making an impact on their community's health and wellbeing.
The winner will be announced at the annual Hygeia Awards at 28 Portland Place in London on 11 September 2019.
Nomination criteria
References from tutor and/or assesor verifying that all work was of a consistently high standard, clearly and accurately presented in an original and interesting way
Quality of health promotion presentation (relevance to audience and delivery)
Supporting other learners
Ability to signpost health services
Impact in terms of promoting health and wellbeing to local young people
Previous winners
2018 winners
The 2018 joint winners of the Young Health Champions Award were Joseph Roberts and Jessica Tunks.

Find out more
For more information about the Hygeia Awards and the nomination process, please see our frequently asked questions. Alternatively, please email us.